erin's new england
cockapoos
Breeding Exceptional Companion Cockapoo Puppies in Massachusetts Since 1993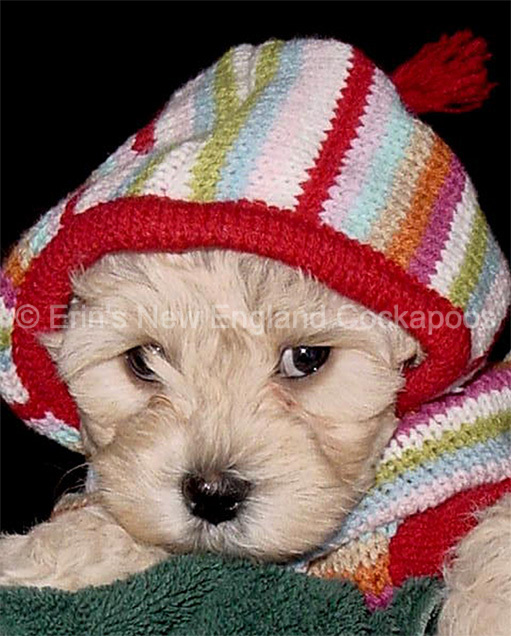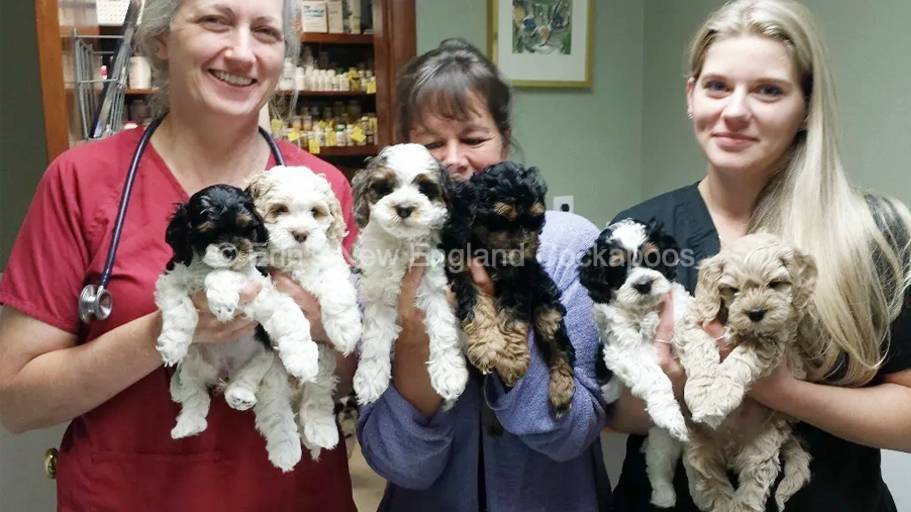 Home-raised, healthy and sweet-tempered Cockapoos
Erin's New England Cockapoos is located in Massachusetts, approximately 50 minutes north of Boston on lovely, coastal Cape Ann. It is a private home—not a kennel—where the dogs are, first and foremost, pampered and adored house pets. As a small breeder, this is much more my passion than my paycheck. Therefore, Erin's New England Cockapoos is not a kennel; my dogs and pups are raised in—and live in—my home. I breed exceptional pups. I have anywhere from two to six litters annually, though I have not necessarily had litters every year. I breed my girls only when my life allows.
Rory and Ollie are about to do a repeat performance!
Pictured below are the fabulous pups from their first performance. If you're interested in getting on their waiting list, I can accept just a couple more deposits on this litter, so
reach out now
to secure a future pup!
When I have a litter of pups, everything in my life is focused on the dogs and the pups and their health and happiness. When I have a litter of pups, I am entirely devoted to their upbringing: simply put, it is all I do. For the first four weeks of their life, the pups (and their mother) sleep in my room with me every night. They are moved to my great room during the day, where I spend 90% of my waking hours with them until they are ready to go to their approved homes, between seven and eight weeks.
I practice The Monks of New Skete Socialization technique. However, I have modified it to my home environment over the years, and I practice Dr. Carmen Battaglia's Early Neurological Stimulation method. The pups are weighed and gently handled daily, surrounded by soft light for their developing eyes, classical music for their developing ears, extended dog and human family, age-appropriate toys, vocabulary, exposures….generally speaking, they are raised in the best possible environment. They are thoroughly socialized, cuddly, confident, smart, and playful by the time they are ready for their new homes.
All of my Cockapoos are genetically tested/cleared before they are ever bred. Pups are available on a limited basis as companion pets only; approved families are expected to spay or neuter the pup at the appropriate age.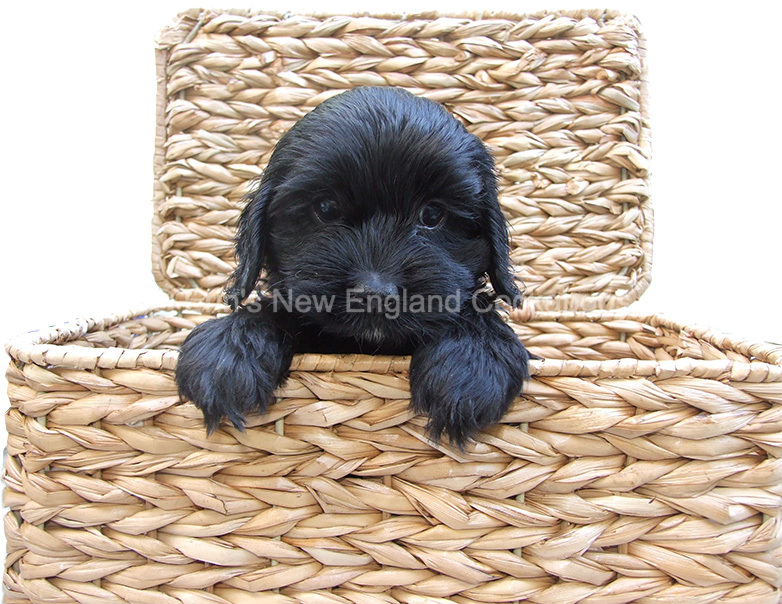 There are many people out there who would have you believe they are breeders when in fact they are actually puppy brokers. Puppy brokers purchase entire litters from puppy mills and puppy farms, then re-sell those pups to an unsuspecting public. When you are looking for a Cockapoo puppy in Massachusetts (or any state, for that matter), make sure to do your research! Please educate yourself and purchase your pup responsibly to prevent your dollars from fueling the continuation of these horrid puppy mills and puppy farms, where mother dogs are forced to live in filthy conditions and reproduce every six months until they are eventually euthanized
ALSO, please be aware: Cockapoos are not hypoallergenic and they are not non-shedding.
There is no such thing as a non-shedding dog (unless it's hairless), and the Cockapoo has Cocker Spaniel in it, so it is impossible for them to be hypoallergenic.
They are a low-shedding breed, and for some people some Cockapoos are allergy-friendly, depending on the type of allergy and the severity of allergy the person may have.
There are a lot of breeder sites that claim the Cockapoo is hypoallergenic and non-shedding; now you know better!