Wait List and Puppy Process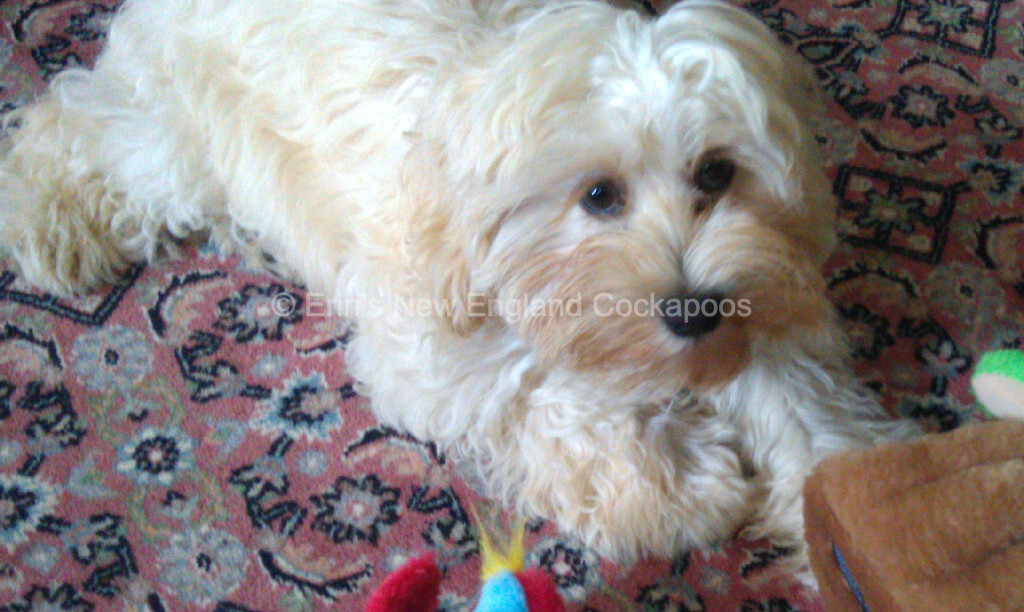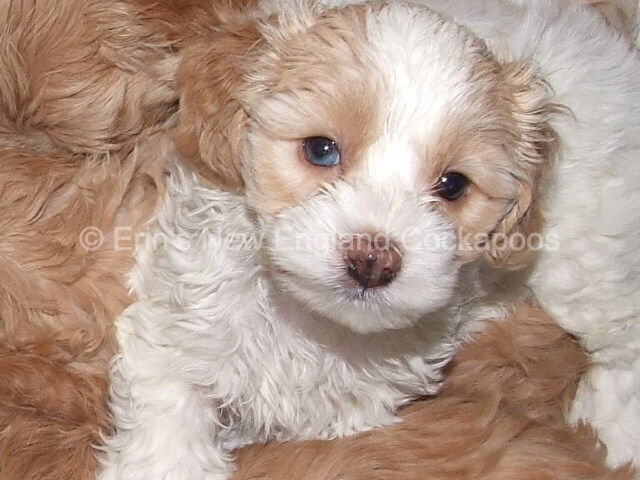 Cockapoo Puppies
in Massachusetts
Erin's New England Cockapoos offers extraordinary pups to exceptional families and has been doing so since 1993. Our process is unique, took years to develop, and is tailored to assure families bring home the best pup for them, armed with lots of practical knowledge, ready to face the challenges of raising their new family member.
It needs to be noted that we are not a kennel but a private home. Therefore, we do not have "visiting hours," nor do we have an endless stream of puppies. Our breeding is very selective and intentional and meant to "anchor" positive traits and superior health in our Cockapoos.
We do have a waitlist and a process we go through:
I believe it's important to meet interested families and for them to meet my dogs and me, ask questions, see where the dogs live, and the pups will be raised for their first eight weeks. So, if you are interested in possibly getting on the waiting list for a pup, an email should be one of your first steps.
If we decide to take things to the next step after that correspondence or chat, we will set up a time for you to come meet my dogs and me. Due to the Coronavirus, I am using ZOOM to virtually meet with people at this point in time.
After we've all "met", assuming everyone agrees to move forward with the process, you reserve a pup or an adult/are placed on the waiting list with a non-refundable $300 deposit.
At that point, as a puppy-approved home, you can expect:
Once the pups are five weeks old, approved families come for weekly visits; however, before the visits begin (yes, even during this time, approved families begin visits when the pups are five weeks old, but there is a protocol they must follow to be safe during this pandemic), families will email me the 'Top Three Traits' they are hoping for in a pup. For example: social, smart, affectionate, or curious, active, playful...etc. Then, during the first visit or two, we'll discuss those traits, exchange information, and families will outline for me what they plan to be doing with the pup, a family's level of experience raising a pup, etc...
Cockapoos do not exhibit gender-specific behavior. Cockapoo colors can change dramatically from puppyhood to adulthood; therefore, I match pups to families based on temperament and personality traits; the matching is not based on any physical traits.
On week 7 each family knows which pup will be theirs, and so visits during those weeks are with their specific pup, rather than the entire litter. On week eight, the pup goes home with the family it has become so familiar with over the course of those wonderful weekly visits. By week eight, the pups will have had their Vet visits, been wormed, and had their first series of vaccinations. A few weeks before each family brings home their new baby, I will send out very information-packed emails to help families best prepare for their new arrival.
Please note: I do not place pups in families with children younger than six years of age.